I'll give credit where credit is due, Anker did the right thing. They didn't piss and moan or make me ship back broken parts. Five days after I called their tech support line (twice) a replacement speaker arrived in the mail (link):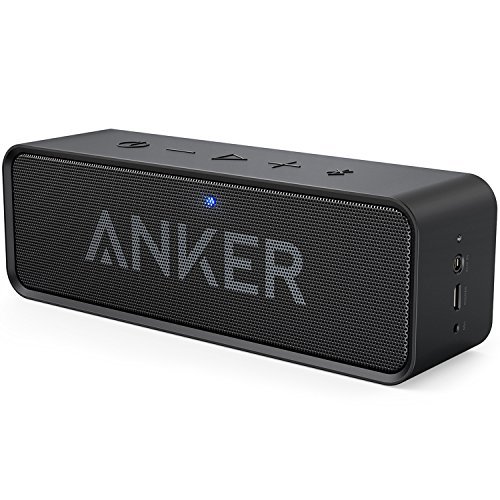 This one did everything that the first one did not. I plugged it in, charged it up, and turned it on. The magic blue light of functionality lit up and it extended its being into the Bluetooth ecosystem. At my laptop, which happened to be booted up in Windows, I told it to sniff the Bluetooth air. The handshake was pretty much automatic:
Laptop: "Ground control to Major Tom?"
Speaker: "Oh my God! I've been locked in a cardboard box for so long. I was lonely. Let's be friends!"
Initial testing suggests the little speaker, which is roughly the size and weight of a can of Red Bull, is all I need. I haven't figured out a way to see if it has a microphone and if so to disable it but otherwise I'm happy with the speaker.
A.C.
P.S. I didn't pay too much attention when I unboxed the first speaker (the one that was a dud) but I noticed the second speaker came encased in a plastic bag inside its cardboard box. I don't remember a plastic bag on the first one (which was a dud). I don't know if this means the first one had been returned by some irate customer and subsequently shipped off to me? Or perhaps I just don't remember the plastic bag and it's just a bad unit from the factory. I don't have sufficient information to know. But Anker did the right thing and that's what matters.
P.S. 2. I'll give the new speaker a few days to make sure it functions and then I'm attacking the old one with hammer and tongs. (The housing is sealed and unrepairable.) I don't want to fix it but what man wouldn't want to figure out what makes it tick? If it holds a charge (which might not be true) I might be able to re-purpose the batteries to run a Raspberry Pi?